The Wanderlust Trainer
via Global Human Performance
"Innovation is Praised, Execution is Worshipped" - ET
The Wanderlust Trainer is a brand whose objective is to improve the quality of sport and fitness coaching on a global stage.
Blog of The Wanderlust Trainer
My dear reader.  You are now reading from, Donald Robinson M.Ed.  It's over!! School, it's done!  It has been an interesting 2 years that this blog has followed most of.  This semester has been a real test to me in my ability to manage time and really soak in as much experience as possible.[…]
This spring I have been serving as a Fellow for the Center for Sports Leadership and Innovation at the University of Texas.  Headed by Daron Roberts, a former NFL coach, we set out to improve the leadership and life skill ability of high school and collegiate athletes, as well as educating coaches on the aspects[…]
Previous
Next
Team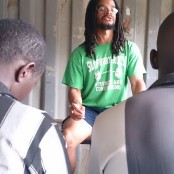 Donald is a recent Masters graduate in Sports Science and Nutrition at the University of Texas with a BS from Slippery Rock University.  Donald coaches athletes and everyday people as well as consults with coaches on how to better improve sport performance for their teams.  He is a Certified Strength and Conditioning Specialist via the NSCA, Certified USA Track and Field Coach , and has a Performance Specialist Certification from EXOS.
Get in touch
Have training, travel, or general questions?